Prosthetic teeth mounted on implants are similar to natural teeth. They are slightly more expensive as they use machined components but they are generally easy to fit.
Fixed prosthetic teeth
Depending on the clinical case in question, fixed implants are either cemented or screwed to the implant abutment.
Single crown : this is commonly used and is ideal for the remounting of a missing tooth, when the adjacent teeth are healthy.
Complete bridge : this is suitable for patients with no teeth at all (edentulous) so that they do not have to wear a complete removable prosthesis. It requires four to six implants to be mounted, according to the technique used by your dental professional.
Removable prosthetic teeth
In this case, implants are placed to stabilise or maintain a removable prosthesis using attachment systems.
Two types of attachment are possible:
Press-studs : the number of press-studs is equal to the number of implants.
Bars which connect the implants to each other. In this case, the prosthesis is anchored by staples. These attachments tend to become looser with time and the prosthesis is therefore less stable. They need to be changed on a regular basis so that maximum retention can be maintained.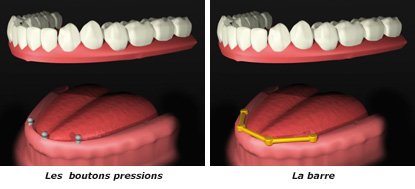 Remember
In the same way as dentures, a mould needs to be made for the implant prosthesis so that a prosthesis can be produced by a prosthodontist.
With implants it is possible to have fixed teeth, even when one no longer has any teeth.
These techniques are not covered by social security reimbursement schemes in France.
For more information about prosthesis on implants, please contact Dr Diss, dental surgeon in Nice (06000)