Permanently fixing prosthetic teeth to an implant involves several steps and several components.
What is an implant abutment?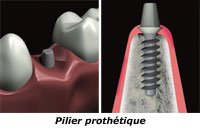 The prosthetic teeth cannot be cemented or screwed to the implant as this would cause irritation of the gum and bone.

It is therefore necessary to use an intermediate piece, called an implant abutment, which is screwed into the implant.

This abutment provides access to the gum.

The prosthetic teeth are then cemented or screwed to the abutment.

The abutment can be made of titanium or zirconium (ceramic) for the front teeth.

The implant is usually screwed in flush with the bone.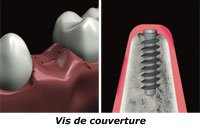 Cover screws are used in implant mounting techniques using two-stage surgery.

The implant has threads for prosthetic pieces to be screwed in.

At the end of the surgical procedure, this thread is sealed by means of a flat screw: the cover screw.

This is removed in a second surgical procedure and is replaced with a healing ring or abutment.
What is a healing cap or abutment?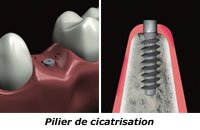 The prosthetic teeth and the prosthetic abutment have to penetrate the gum.

After the implant is mounted, access to the implant threading has to be maintained through the mouth cavity in order to allow the various pieces to be screwed in.

To do this, a healing cap or abutment is placed, temporarily, on the implant threading to prevent natural coverage by the gum.

This healing cap is very important as it guides the healing process. It is replaced permanently by the prosthetic abutment at a later stage.
Remember
Dental implants are produced by microprecision technology.
Pieces are generally made of titanium, a biocompatible material that does not cause allergies.