All-on-4® et All-on-6® Implant Solutions: Effective for Whole Mouth Treatment
All-on-4® treatment is a good alternative for treating the full dental arch: the teeth (10 to 12) are attached to 4 implants.
This implant solution has no bone grafts, allows patients to leave with a temporary prosthesis the same day as the procedure.
The treatment duration is thus shorter because there is no bone graft and can immediately bear force.
The permanent teeth will be positioned around 4-6 months after the surgery.
This solution is less expensive and at a comparable rate to other implant methods.
Clinical studies show less experience than with the all-on-6®, which is on the order of 10 years.
All like the all-on-4® solution, this solution has the same advantages.
The only difference, the prosthesis is supported by 6 implants and is attached to the upper jaw, based on the bone volume.
There is a lot of clinical experience: more than 30 years.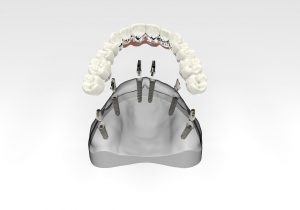 For more informations or to book an appointment with
  Dr Antoine DISS – Dentist in Nice (France), please contact us by email or call 0033 492 145 145