The Periodontics' assessment is carried out by the dental surgeon. It may or may not include several methods depending on the type of periodontitis and its severity. Your dentist will decide this.
What are the different methods used to assess the severity of the Periodontics ?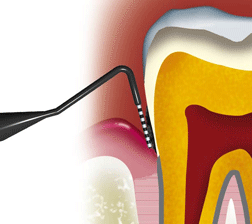 Your dentist has various tools which he/she may or may not use.
Initial meeting to investigate general periodontal risk factors.

Clinical examination to investigate local periodontal risk factors.

Charting: measurement of the depth of pockets with the aid of a periodontal probe.

A bacterial test (by microscope or by taking a sample) to detect very aggressive bacteria.

A genetic test where a saliva sample is taken (PST Test): the purpose of this test is to ascertain whether you have a genetic predisposition to the development of periodontal disease.

A retroalveolar X-ray check-up: a series of mini-radiography scans to evaluate bone condition.
Remember
Initial assessment of the disease and its severity is an important point that allows us to make an analysis of the situation.
This assessment guides the prognosis.